---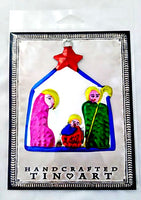 Handcrafted tin Nativity ornament. Measures approximately 4.5" by 3.25". Created by the talented artesanos in Oaxaca, Mexico, using traditional methods that are centuries old. Each piece is hand cut, tooled and painted with precision and creativity.
Distributed by Sedona Spirit, who has been working with the Artesanos in Mexico and other countries since 1988. Sedona believes in Fair Trade, working hand in hand with craftspeople.Together they produce beautiful products that are appreciated for a market around the world.
PLEASE NOTE: Since this item is hand crafted each is unique and may vary slightly from the image shown.