---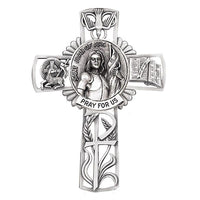 St. Joan of Arc 5" pewter wall cross
With beautiful details and the timeless elegance of pewter, this cross features:
Solid, lead-free cast silver pewter
Hand-finished details and Christian symbols
Plastic gift box, ready for display or use
Bethany Pewter crosses make perfect gifts for major life events and Sacraments, including Baptism, First Holy Communion, Confirmation, and any other significant Christian or Catholic moment in life. Comes boxed for gift giving.
Material: Pewter
Size: 5" H
NOTE: This item is shipped directly from the manufacturer. Availability is dependent upon manufacturer's stock level at the time order is placed. Please allow three to five extra days  for delivery.