---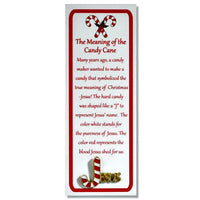 Our lapel pins with bookmark are value priced and are perfect for gifts and give-aways for Chrstmas or as a stocking stuffer. Each pin comes attached to a bookmark and is individually bagged.
Bookmark reads:
The Meaning of the Candy Cane
Many years ago, a candy maker wanted to make a candy that symbolized the true meaning of Christmas - Jesus! The hard candy was shaped like a "J" to represent Jesus' name. The color white stands for the pureness of Jesus. The color red represents the blood Jesus shed for us.