---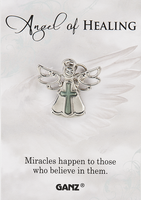 Difficult challenges are put in our path not to stop us, but the strengthen us.
This lapel pin is a perfect "add on" for a birthday or other special occasion. Makes a great stocking stuffer! Item measures approximately 1 inch high by 1.25 inches wide.
Pin comes from the Angel Of... pin collection. See the others in the "ANGELS" sidebar listing.