---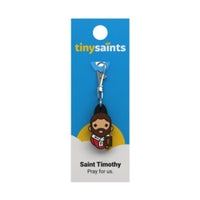 This cute charm comes from the Tiny Saints Collection. Kids and adults love them! Hang them from your key chain or backpack.
Perfect stocking stuffer, Easter Basket addition, or for a Confirmation Candidate who has taken the name of this saint as their Confirmation name. Also makes a great gift for anyone named after this saint!
Timothy was a young man in Lystra when St. Paul came there to preach. Timothy converted and became close friends with Paul, whom he joined on many missionary travels, and who wrote two epistles to his young co-worker. Timothy was ordained a priest and became the bishop of Ephesus. There, tradition holds, he witnessed Our Lady's assumption into Heaven. Timothy was martyred by stoning around the year 97.
Feast Day: January 26
Patronage:
Crohn's & Ulcerative Colitis Sufferers
Stomach &  Intestinal Disorders