---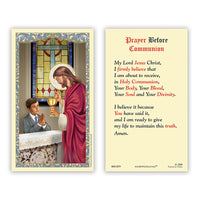 We are proud to offer an attractive line of Laminated Holy Cards from Ambrosiana™ featuring the exclusive images of the most popular Catholic subjects. Complete with fresh, new Ambrosiana™ artwork with subtle gold stamping and a classic prayer on the back suitable to the image, these cards are sure to be the retailer's favorite for years to come.
PACKAGE SIZE: 25 laminated cards.
On the back of this Card:
Prayer Before Communion
NOTE: This item is drop shipped from the manufacturer and availability is dependent upon manufacturers stock at time of order.