---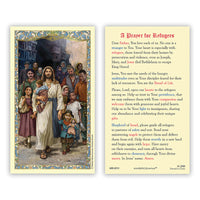 Welcome the Stranger offers an overview of the causes and effects of the refugee crisis today, as well as a look at the response of the Church. This Holy Card features the artistry of Michael Adams' extraordinary painting of Jesus walking with refugee children.

Card Reads: Dear Father, You love each of us. No one is a stranger to You. Your heart is especially with refugees, those forced from their homes by persecution and violence, even as Joseph, Mary, and Jesus fled Bethlehem to escape King Herod. Jesus, You met the needs of the hungry multitudes even as Your disciples feared for their lack of resources. You are the Bread of Life. Please, Lord, open our hearts to the refugees among us, Help us trust in Your providence, that we may embrace them with Your compassion and welcome them with generous and joyful hearts. Help us to be Your light to immigrants, sharing our abundance and celebrating their unique gifts. Shepherd of Israel, please guide all refugees to pastures of safety and rest. Send your ministering angels to protect them and deliver them from evil. Help them resettle in a new land and begin again with hope. Have mercy on their enemies, and turn all hearts from selfishness to clemency, through Your divine mercy. In Jesus' name. Amen
You are purchasing one laminated card.