---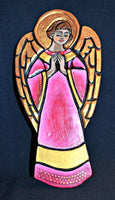 This handcrafted ceramic tile plaque was designed by Sr. Jane Mary Sorosiak, who is known for creating large scale ceramic murals. She has now used her artistic talents to create this smaller scale ceramic tile as a way to help fund the care of the elderly sisters of her Order, The Sisters of St. Francis located in Sylvania, Ohio.
This tile has the image of a praying Angel. Plaque measures approximately 11 inches high by 5.5 inches wide.Angel is all in pink. Due to rounded base, this plaque can only be hung on a wall.

Each tile goes through a multi-step process starting with preparing the clay and rolling it out into thin slabs. The clay is then put into molds the Sisters have made from their original designs. After drying, the tiles are fired in the kiln. Once cool, they are ready for glazing or painting. From start to finish, each tile takes about a week to produce.
Each Alverno tile is more than just a small work of art, it's a reflection of the Franciscan love of beauty based on St. Francis' deep-rooted belief in God's presence within all of creation. Its a blessing, a gift of the Sister's hands, hearts and prayer.
PLEASE SEE OTHER ITEMS BY THE SISTERS OF ST. FRANCIS! Place "Sisters of St. Francis" in the search field to see all their items.