---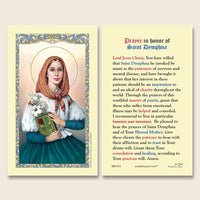 We are proud to offer an attractive line of Laminated Holy Cards from Ambrosiana™ featuring the exclusive images of the most popular Catholic subjects. Complete with fresh, new Ambrosiana™ artwork with subtle gold stamping and a classic prayer on the back suitable to the image, these cards are sure to be the retailer's favorite for years to come.
St. Dymphna is the Patron of those with mental illness.
PACKAGE SIZE: 25 laminated cards.
On the back of this Card:
Prayer in Honor of St. Dymphna