---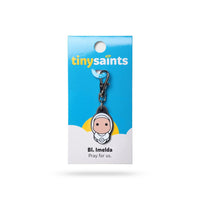 This cute charm comes from the Tiny Saints Collection. Kids and adults love them! Hang them from your key chain or backpack.
Perfect stocking stuffer, Easter Basket addition, or for a Confirmation Candidate who has taken the name of this saint as their Confirmation name. Also makes a great gift for anyone named after this saint!
As a child, little Imelda would create prayer corners around her house with flowers and pictures. She loved Jesus so much that she joined a cloistered Dominican community when she was only nine years old! Two years later, while Imelda attended Mass, the Holy Eucharist miraculously hovered above her as she knelt in prayer. Astounded, the priest took the host in his hands and gave Imelda her First Communion. She was so filled with joy, she joined Christ in Heaven that very moment.