---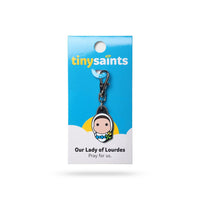 This cute charm comes from the Tiny Saints Collection. Kids and adults love them! Hang them from your key chain or backpack.
Perfect stocking stuffer, Easter Basket addition, or for a Confirmation Candidate who has taken the name of this saint as their Confirmation name. Also makes a great gift for anyone named after this saint!
In the French town of Lourdes, Mary appeared to 14-year-old Bernadette in 1858. She wore a beautiful white dress and blue sash with yellow roses at her feet. Bernadette hurried home to share what she had seen but was rebuked for lying. So, Mary instructed Bernadette to tell people she had seen the Immaculate Conception. This impressed local leaders and many healings and other miracles followed. Today, Lourdes is one of the most visited pilgrimage destinations in the world.