---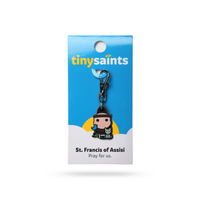 This cute charm comes from the Tiny Saints Collection. Kids and adults love them! Hang them from your key chain or backpack.
Perfect stocking stuffer, Easter Basket addition, or for a Confirmation Candidate who has taken the name of this saint as their Confirmation name. Also makes a great gift for anyone named after this saint!
Known well as the namesake for Pope Francis, St. Francis was born in Assisi, Italy, the son of a wealthy merchant. He joined the military but soon became a prisoner of war. When he finally returned home, Francis felt called to serve others, especially the poor. While praying before a crucifix, Francis heard Jesus tell him to repair the Church and live a life of poverty and simplicity. He soon attracted many followers. Today, the Franciscan Order is one of the most beloved religious institutions in the world.