---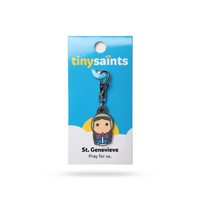 This cute charm comes from the Tiny Saints Collection. Kids and adults love them! Hang them from your key chain or backpack.
Perfect stocking stuffer, Easter Basket addition, or for a Confirmation Candidate who has taken the name of this saint as their Confirmation name. Also makes a great gift for anyone named after this saint!
n the year 430, St. Germain was speaking to a crowd near Paris. He felt inspired by God to call forth a special young girl named Genevieve and asked her if she wished to consecrate herself to Jesus. That was all Genevieve ever wanted! With no convents nearby, Genevieve lived a life of prayer and devotion at home. She was often seen walking to church at night carrying a candle. In 451, as Attila the Hun camped outside Paris, Genevieve prayed at the gates. Miraculously, Attila and his troops left the city untouched.