---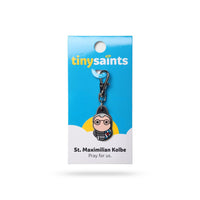 This cute charm comes from the Tiny Saints Collection. Kids and adults love them! Hang them from your key chain or backpack.
Perfect stocking stuffer, Easter Basket addition, or for a Confirmation Candidate who has taken the name of this saint as their Confirmation name. Also makes a great gift for anyone named after this saint!
Father Maximilian Kolbe was a loving and compassionate Franciscan priest from Poland. He cared deeply about sharing the message of the Gospel and even published a newspaper and magazine. In 1941, Kolbe was arrested by the Nazis and placed in Auschwitz concentration camp. When ten prisoners were chosen to die by starvation, Kolbe volunteered to replace a young husband and father. The man survived the war and attended the Kolbe's canonization in 1982.