---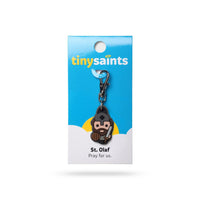 This cute charm comes from the Tiny Saints Collection. Kids and adults love them! Hang them from your key chain or backpack.
Perfect stocking stuffer, Easter Basket addition, or for a Confirmation Candidate who has taken the name of this saint as their Confirmation name. Also makes a great gift for anyone named after this saint!
St. Olaf was King of Norway from 1015 to 1028. He reigned during a particularly harsh and brutal time and led with Viking principles of courage, aggression, preparation, shrewdness and order. In his efforts to unite Norway into one kingdom, Olaf also sought to unite the people under one faith. He recruited bishops from England, Normandy and Germany to help in the effort, and many hearts turned to Christ. St. Olaf is particularly known and loved in Norway... and in Minnesota where a college bears his name!