---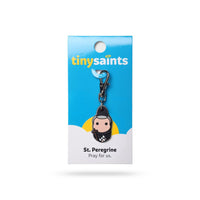 This cute charm comes from the Tiny Saints Collection. Kids and adults love them! Hang them from your key chain or backpack.
Perfect stocking stuffer, Easter Basket addition, or for a Confirmation Candidate who has taken the name of this saint as their Confirmation name. Also makes a great gift for anyone named after this saint!
Born in the 13th century, Peregrine grew up in a very political and anti-pope family. Once, he even heckled and struck a priest who was speaking in defense of the Church. The priest forgave him and Peregrine was changed forever. He turned to a life of great charity and penance. As penance, Peregrine would often stand instead of sitting. This caused medical issues with his leg which eventually led to cancer. Peregrine was miraculously healed and today he is a source of strength, faith and miracles for those affected by cancer.