---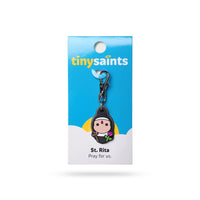 This cute charm comes from the Tiny Saints Collection. Kids and adults love them! Hang them from your key chain or backpack.
Perfect stocking stuffer, Easter Basket addition, or for a Confirmation Candidate who has taken the name of this saint as their Confirmation name. Also makes a great gift for anyone named after this saint!
Rita was forced into an arranged marriage with a mean-spirited man. Through her love, patience and prayer, he repented. But sadly, soon after his conversion, Rita's husband was murdered. Their two sons wanted revenge on the killer but Rita's love, prayers and example converted their hearts. As a widow, Rita joined an Augustinian convent where she tended to her sick sisters and counseled  people who would visit the convent. She sought intensely to suffer as Christ did. Miraculously, a thorn from a crucifix left her with a wound in her head - a permanent mark of suffering shared with Christ.