---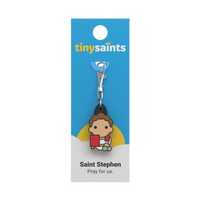 This cute charm comes from the Tiny Saints Collection. Kids and adults love them! Hang them from your key chain or backpack.
Perfect stocking stuffer, Easter Basket addition, or for a Confirmation Candidate who has taken the name of this saint as their Confirmation name. Also makes a great gift for anyone named after this saint!
Critical of the corrupt religious leaders who rejected Jesus, Stephen was an outspoken deacon who did not hold back. "You stiff-necked people!" he yelled once while speaking in Jerusalem. "You always resist the Holy Spirit!" For proclaiming the divinity of Jesus, Stephen was dragged out of the city and stoned to death, thus becoming the Church's first martyr and a symbol of courage for many as the persecution of Christians began.