---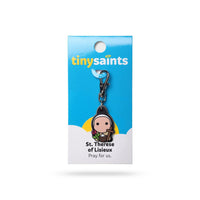 This cute charm comes from the Tiny Saints Collection. Kids and adults love them! Hang them from your key chain or backpack.
Perfect stocking stuffer, Easter Basket addition, or for a Confirmation Candidate who has taken the name of this saint as their Confirmation name. Also makes a great gift for anyone named after this saint!
Known also as "Saint Theresa, the Little Flower," Therese was a very smart, kind and sensitive child from a good and loving family. But she had a very hard time with stress and fell victim to bullying, self-doubt and the challenges of life (including the early death of her mother). In 1886, Therese felt Jesus give her an answer to her struggle for peace. "I felt, in a word, charity enter my heart, the need to forget myself to make others happy," she said. In 1888, Therese entered a Carmelite convent. Known for her simple love and kind ways, Therese died at 24, promising to "send down a shower of roses" from Heaven.