---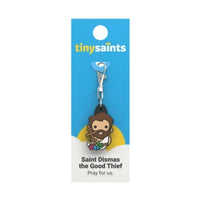 This cute charm comes from the Tiny Saints Collection. Kids and adults love them! Hang them from your key chain or backpack.
Perfect stocking stuffer, Easter Basket addition, or for a Confirmation Candidate who has taken the name of this saint as their Confirmation name. Also makes a great gift for anyone named after this saint!
We don't know very much about Dismas, except to say that he was a convicted criminal who was crucified alongside Jesus on Good Friday. Luke recorded his humble words of faith when Dismas implored Jesus saying, "Remember me when you come into your kingdom." Christ responded, promising that this Good Thief would be with Him in paradise that very day. Tradition honors Dismas for the greatest "theft" of all: "stealing" his way into Paradise.
Feast Day: March 25