---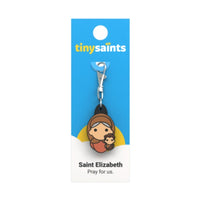 This cute charm comes from the Tiny Saints Collection. Kids and adults love them! Hang them from your key chain or backpack.
Perfect stocking stuffer, Easter Basket addition, or for a Confirmation Candidate who has taken the name of this saint as their Confirmation name. Also makes a great gift for anyone named after this saint!
St. Elizabeth was a righteous woman, blameless before God, but unable to bear children. However, an angel appeared to her husband, Zechariah, telling him that Elizabeth would have a son, John, the Messiah's messenger. When her cousin, Mary, came to visit, Elizabeth felt her baby leap excitedly at the presence of Jesus in Mary's womb, and she exclaimed, "Blessed are you among women, and blessed is the fruit of your womb!"
Feast Day: November 5
Patronage:
Expectant Mothers