---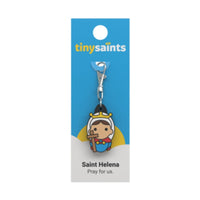 This cute charm comes from the Tiny Saints Collection. Kids and adults love them! Hang them from your key chain or backpack.
Perfect stocking stuffer, Easter Basket addition, or for a Confirmation Candidate who has taken the name of this saint as their Confirmation name. Also makes a great gift for anyone named after this saint!
Born around 247 AD, Helena was the wife of the Roman Emperor. When her son, Constantine, received a miraculous vision before a battle, Helena converted and became a devout Christian. She traveled to the Holy Land to find Christ's cross, which had been lost. Three crosses were discovered, so Helena asked a dying woman to touch each one. The woman was miraculously healed after touching the true cross.
Feast Day: August 18
Patronage