---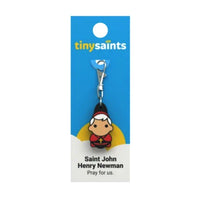 This cute charm comes from the Tiny Saints Collection. Kids and adults love them! Hang them from your key chain or backpack.
Perfect stocking stuffer, Easter Basket addition, or for a Confirmation Candidate who has taken the name of this saint as their Confirmation name. Also makes a great gift for anyone named after this saint!
John Henry Newman, the scholarly son of an English banker, was drawn by his reading to become an Anglican priest. However, as he studied and prayed, Newman grew convinced that Roman Catholicism was the true church founded by Christ. He converted and became a Catholic priest. Pope Leo XIII made him a cardinal, and Newman led many English men and women to Catholicism by his writing and preaching.