---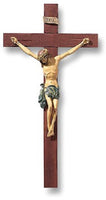 This Verona Roma crucifix carries the Tomaso name, a brand well known and respected for the best materials, meticulous details, quality craftsmanship and beautiful packaging. The wood Cross with resin Corpus stands approximately 13 inches high.

Comes in a unique hinged gift box, printed with the "Prayer Before A Crucifix" inside.
Perfect for a First Communion or Confirmation gift.
NOTE: This item is drop shipped directly from the manufacturer and availability is subject to stock at time of order. Please add an additional two to five days for shipment.